Develop a Digital Citizen for Society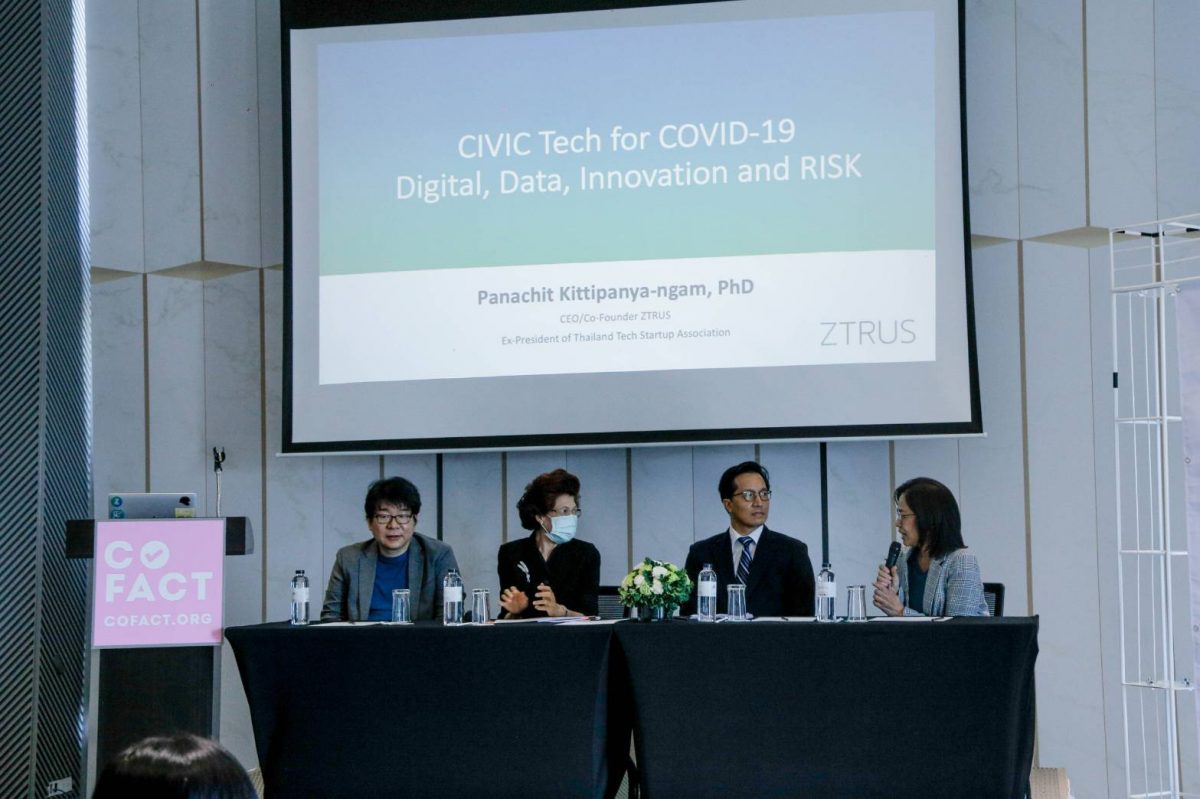 Develop a Digital Citizen for Society
By COFACT Thailand
The COVID-19 came out of the blue and attacked the global hard. No single government was ready for it. Letting the government alone to deal with pandemics can't suppress the virus that spreads so fast. The crisis demands cooperation. Digital citizens utilize their skills to address the problem and their actions could be served as lessons to develop new digital citizens in the future.
Dr. Panachit Kittipanya-Ngam, CEO-ZTRUS presented a paper titled: "Civic Technology and Pandemics" to academics and experts convened at the 14th Year-end Digital Thinkers Forum co-organized by COFACT and networks of civil society organizations on 26 November 2020.
    Dr. Panachit shared experiences in applying technology to screen and transfer suspected COVID-19 patients as a way to ease the burden on doctors and nurses. The technology adoption also helps better patient transfers and brings the disease under control. As a result, nearly 300,000 patients were accommodated to the hospital during the first two months of the outbreak. The idea has been adopted from innovative startups that solves the root causes and adapts to cope with all new challenges. The action ultimately paves the way for a comprehensive system that can address flaws.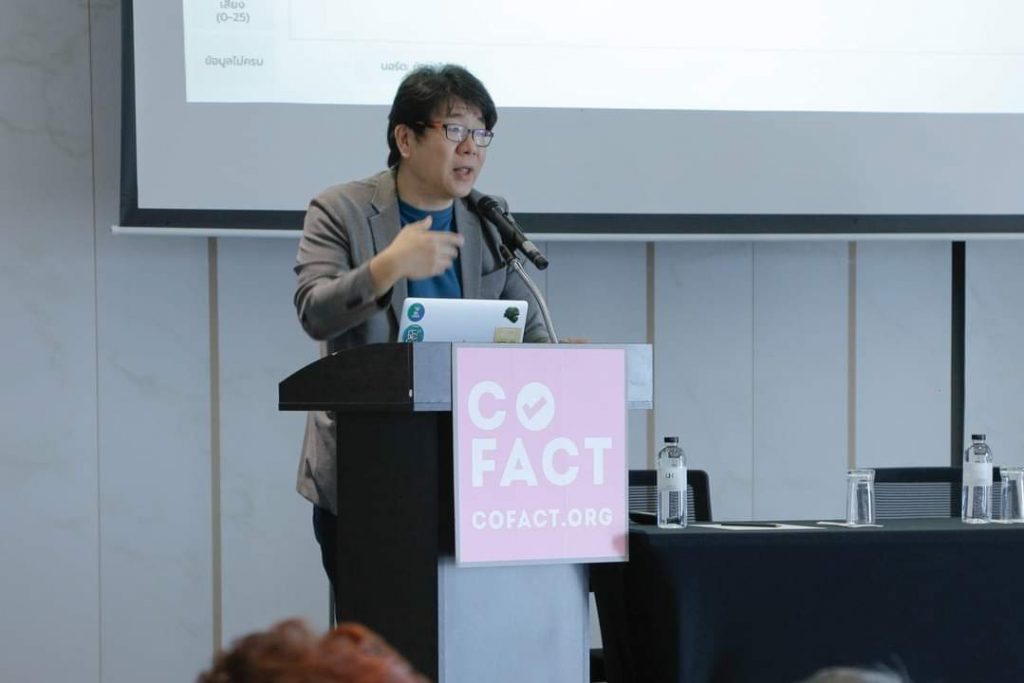 Concept: Put the right person to the right thing
Dr. Panachit said initial screening system was developed from the concepts of startups that aims to solve the root causes with new tools, rather than mitigating consequences.
"During COVID-19's initial outbreak, we witnessed widespread panic among Thai people and we feared the hospitals would be overwhelmed. Everyone was getting worried if he or she was infected. If we let everyone go to the hospitals, doctors can't diagnose every patient. So, we developed a system to match a person suspected he might have been infected (demand) with a hospital (supply). We developed an initial screening system with digital tools to conduct active screening to search for people with high risk of infection," said Dr. Panachit
"44 days have elapsed since 7 March 2020. We supported more than 100,000 patients. About 200,000 – 300,000 were covered by our system during the next two months. Just imagine, what would happen if these people who were worried sick went to the hospitals at the same time? It would be chaotic. So, we think our idea was the right solution and helped ease the burden of the hospitals. Among 200,000 – 300,000 people, about 20,000 of them deemed at risk of infection. They were later transferred to Chulalongkorn and Rajavithi Hospitals with 50 patients each day," he added.
Comprehensive citizen volunteering
The big question about communicating with people during a crisis is to provide trusted and reliable information that requires close cooperation with the public sector.
"The first attempt is to create reliable information. We have to work closely with two key state agencies which are the Disease Control Department and Sure Kon Share Center (Sure and Share Center). During the initial stage of cooperation, we began a screening process by handing over questions prepared by the Department of Disease Control to confirm how many people tested positive for COVID-19. We've developed tools to cope with the COVID-19 and also offered teleconsulting services, which allow patients to talk with a doctor over the phone," said Dr. Panachit.
Apart from an initial screening to ease the burden of hospitals, the next mission is to transfer patients with suspected COVID-19 to hospitals while mitigating the spread of virus.
"When we informed the patients that they were at risk of infection, we thought carefully about how they would travel if they didn't have vehicles. We called the 1669 medical emergency hotline, but they couldn't take patients with high risk of infection. If they used public transport, the risk would be greater. We had to hire a car and converted it into an ambulance to pick up at-risk-Covid patients and reduce transmission of the coronavirus," he recalled.
However, problem that followed is the final diagnosis that took several days to confirm the infection. The solution available at that time was to convert hotels to make room for patients. Hotels had lost all revenue and remained empty ever since. Fundraising platform Taejai.com had stepped in and been raising funds to ease the financial burden of patients, reflecting cooperation between public and private sectors in a comprehensive way.
"I believe citizens can work with the state agencies," Dr. Panachit expressed his opinion, adding that patient screening mission has extended to comprehensive care system that allows individuals to help the government manage the crisis.
Building trust between government and civic sector
People are concerned when the government is handling sensitive information because the state must protect personal data and privacy to ensure citizens' security. Thus, data must be divided into two categories – disclosable and confidential.
"When we request non-personal data such as the number of hospital beds or locations of stores selling face masks, this information is never available. If we have enough key information in hand, we'll be able to serve the demands by matching [the patients and hospitals] right away. Startups investors are hot-tempered, quick and very determined to solve problems, but the Thai government displays a reluctance to disclose information," said Dr. Panachit.
"We have to find a balance between privacy and security. What we have been discussing with the Department of Disease Control is that disclosable information should be made public and most up-to-date. For example, the total number of available hospital beds, number and information about stores selling face masks, or information about available measures to fix the problems. In case of IT-related problems, we can help create better structure that build trust [between the public sector and people] and allow the two sectors to work together. Trust and shared goals should be core values, otherwise both public and private sectors will collapse.
Develop a digital citizen for society
Based on work experience with the public sector during the COVID-19, Dr. Panachit has highlighted three key challenges that the government needs to address before the next pandemic hits. The three challenges are illustrated below:
Organizing data as basic infrastructure to respond to a crisis
Enchaining the end-user experience that allows data exchange between the government and citizens in accordance with data protection rules
Integrating the application programming interface (API) as a new public service
In response, Dr. Jiraporn Wittayasakpan, honorable committee member from the Thai Health Promotion Foundation also opined that knowledge should be developed further into guidelines to boost cooperation on civic tech and solve the social problems. This will encourage people to not only use mobile phone for themselves, but for the sake of society.
"I praised civil society for taking a step forward to address and ease the impact of COVID-19. On the other hand, the ultimate goal of adopting a business model is profit-making. Imagine if the public sector acts as data curator and service facilitators as policy maker. The question is how we can disclose information and make sure that information is in safe hands, not to be used for business purpose," said Dr. Jiraporn.
"These days, many types of technology risks are inevitable. There is an increasing risk when mobile phones are used. How we can bring these ideas forward and apply them to bring happiness of the people. I want to see this type of model where digital skills are integrated to improve people's quality of life and make civil society more effective and beautiful like the case of community radio that is owned by several communities and play a significant role in developing communities," she added.
While Asst. Prof. Dr. ML Taya Kitiyakara, from the Department of Gastroenterology and Hepatology at the Faculty of Medicine Ramathibodi Hospital, Mahidol University said the technology adoption is flexible, right to the point and comprehensive. In his view, the formation of the technology also strengthens community resilience by utilizing resources from diverse society to lift living standard of the poor and the underprivileged. Doctors, nurses and healthcare workers can't cope with the COVID-19 pandemic without support from other sectors of the society.
    "The hospitals manage patient flow, and we adjust the plan in line with problems that arise. I want to highlight efforts made by the project. It reflects good cooperation among different groups of startups. We should urge others to apply this model and take action, but the question remains about how we can encourage others to follow suit because cooperation between the public and private sectors require trust to some extent. So, procedure must be set up to allow a close collaboration [between the two sectors] to occur in the near future," Dr. Taya explained.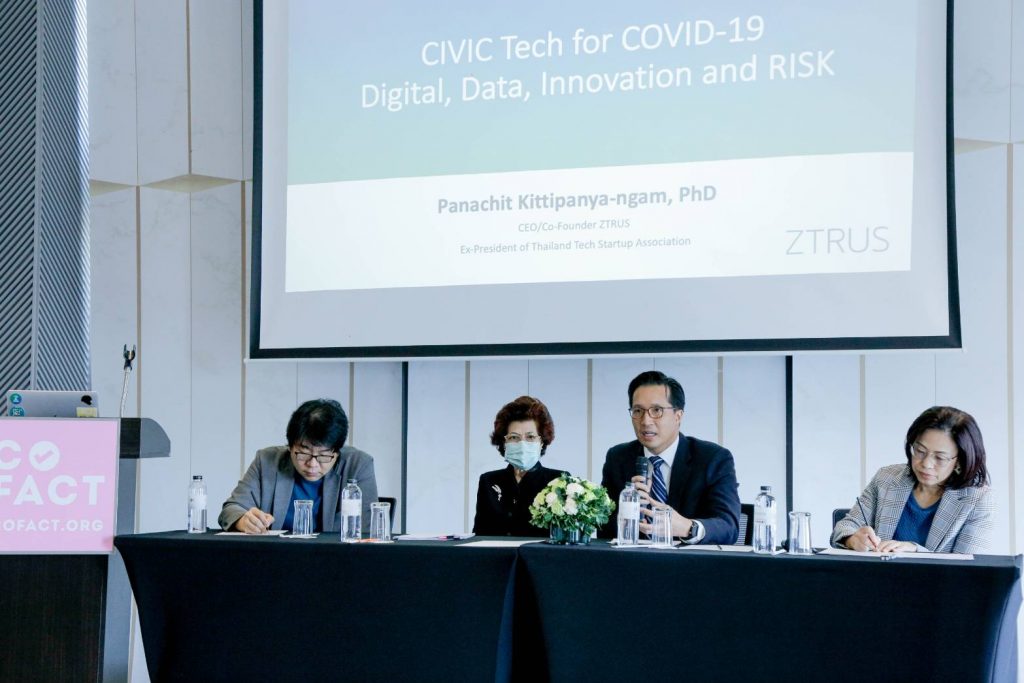 The panel discussion made the audience become more aware of the importance of civil society in a digital era. When a crisis strikes, the government alone can't address the problems from all sides. Thus, civil society plays a significant role in helping the country survive this crisis. In order to work with state agencies more effectively, civil society must disclose information that is necessary for crisis mitigation. Lessons shared by startups will be serves as a model for Thai society to develop digital citizens in the future.