Challenges of digital citizens during the New Normal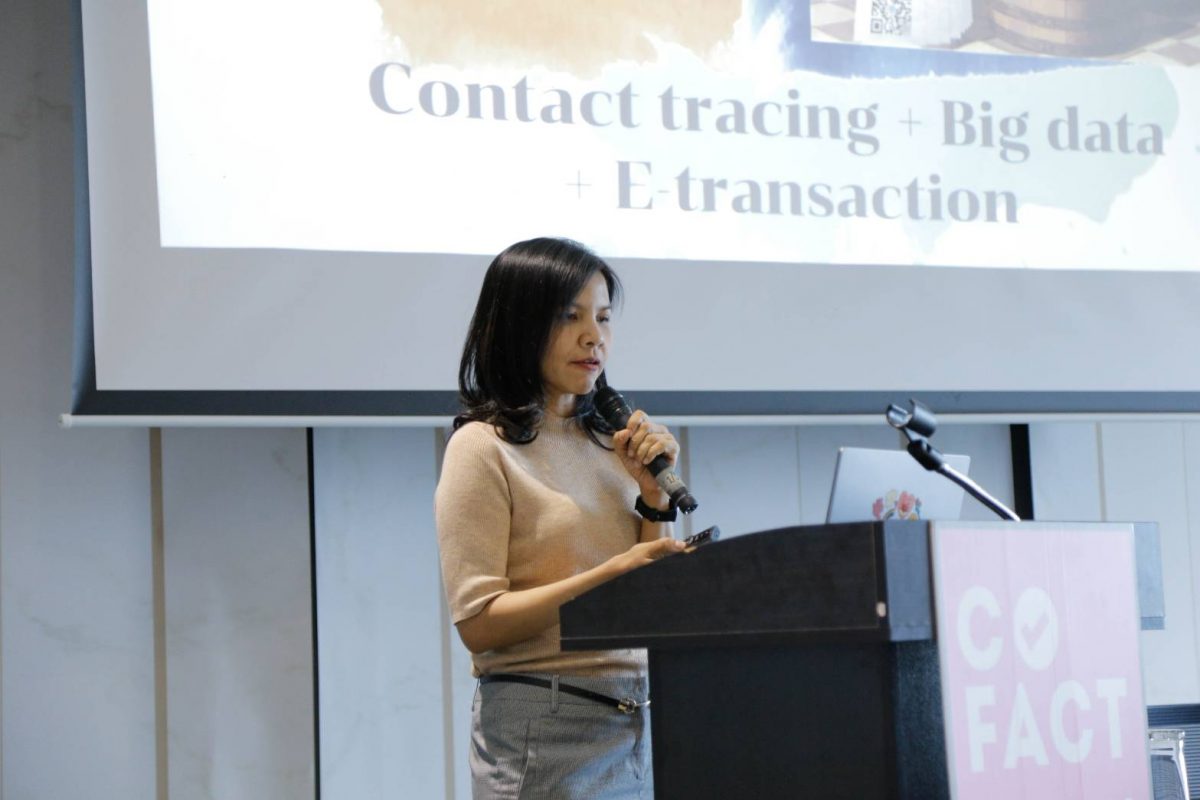 Challenges of digital citizens during the New Normal
By COFACT Thailand
What will the future look like if everything in life is fitted with sensors? It will certainly track misplaced objects more easily. The comfort, on the other hand, can put one's personal data at risk because technology has positive and negative effects on daily lives.
During the opening remarks of the 14th Year-end Digital Thinkers Forum co-organized by COFACT, Thai Health Promotion Foundation, Thailand Institute of Justice and Friedrich Naumann Foundation on 26 November 2020, Ms. Supinya Klangnarong, co-founder of COFACT-Thailand welcomed academics and experts from different fields to a brainstorming meeting under the theme: "Promoting Digital intelligence to deal with cybercrime in the New Normal".
Intelligence of digital citizens during the New Normal
When the technology evolves rapidly, what follows is humans are struggling to catch up with the status quo, especially the dark side of technology. The rapid change brings up questions about morals and concerns about growing cybercrime that has become part of daily life. For instance, if genetic code can be completely cracked that it allows parents to choose gender, hair color or facial structure for their babies. Children may not be able to grow up because parents control them. Cybercrime can cause an economic downturn. Some jobs like call centers and banks will vanish, but at the same time, new job opportunities will be created, or existing jobs like psychiatrists are growing more important.
Ms. Supinya has urged people to embrace significant changes such as human microchip implant, digital identity, digital wearable devices, autonomous car and artificial intelligence (AI) in the workplace. The digital transformation will make our lives far easier, but people should embrace and use it wisely, otherwise they will fall into the cybercrime trap.
There're four elements of being an intelligent digital citizen which consist of
Brain: to have a comprehensive understanding and apply our knowledge wisely
Heart: to integrate thinking into feeling and connect with yourself as well as others
Soul : to be aware of emotion, common goals, trust and goodness that altogether lead to positive change and the creation of public benefits
Body: to cultivate your own healthy lifestyle and those of people around you. For example, kids these days know how to use iPad. Gadget overuse have eventually changed human's body structure. The spine of humans in the next decade will bent forward
Although technology has progressed this far, humanity still serves as a foundation for social unity even in the digital era.
Smart cyber criminals
Since a Covid-19 lockdown, the world sees a surge in scams on average, especially in Asia – Malaysia, Indonesia, Thailand, and Vietnam, accounting for more than 60 percent of the world's population. Types of computer crimes have also increased such as job frauds, fake charity and online gambling. The police are struggling to combat with rapidly increasing cybercrime and track down the so-called "Smart Thieves". Meanwhile, law enforcement fails to keep up with cybercrime which is now skyrocketing. Working from home is also a factor that leads to a rise in internet banking scam.
Challenge for digital citizens during outbreak is that people feel their freedom to live is being threatened. This feeling occurs because the government tracks the people's locations and activities as a way to process patients for medical service and bring COVID-19 under control.
Ms. Supinya stressed that a more balanced digital citizenship remains questionable, bringing up some cases that emerged during lockdown.
"More people worldwide are turning to the popular free porn website, with Thais ranking one of the website's top countries in terms of traffic. If we choose to focus on the bright side, it helps decrease women's risk of sexual assaults. But the video clips may contain content from sexually exploited women," she explained.
Among the key speakers, Lieutenant Colonel Preab-phrom Mekiyanon (พันตำรวจโทหญิง เพรียบพร้อม เมฆิยานนท์) , Acting Inspector, the Thailand Internet Crimes Against Children (TICAC) Task Force under the Technology Crime Suppression Division (TCSD) has highlighted that the police can't keep up with the rising cybercrime, especially the transboundary crimes online.
"During COVID-19, a large number of children are sexually abused. For example, children are being lured into recording a video of masturbating themselves. The price of each video ranges from 5,000 to 50,000 baht. There are cases in which foreigners fool retired people into entering a relationship and steal all hard-earned savings. With technology such as Google Translation, criminals can reach out to victims in a faster and easier way, making it the borderless crime. For instance, about 50,000 – 60,000 images of naked children are sold in Australia. For each case, it takes about one year to track down the criminal and advanced technology makes the hunt even more difficult," Lieutenant Colonel Preab-phrom said.
Thus, being an intelligent digital citizen is a must choice in order to deal with threats which are no longer far-fetched. People can't wait for the authorities to track down the cyber criminals because it is becoming more difficult. The best way is to protect our rights because no one is going to care for you for 24 hours, she added.
Build smart digital citizens
During a brainstorming session, many experts have discussed ways to build smart digital citizens. Among them is Dr. Napat Ruangnapakul, Deputy Dean at the Faculty of Information and Communication, Maejo University, who shed light on digital literacy among children at schools. She gave an example, saying in Australia, digital literacy has been integrated into the curriculum from kindergarten to secondary school in order to provide students with a better understanding of digital technologies. She believed Australia has set a good example that Thailand should follow.
"At present, 10 generic competences of digital literacy are being taught for students from kindergarten level onward. The subject gets more difficult as the grade rises. The topics also include cyberbullying to protect children from negative posts online. As of now, 13 schools focus on digital citizenship courses. Children are urged to change passwords regularly because hacking the passwords will be much easier in the near future. Digital intelligence and digital citizen will drive the economic and improves people's well-being. "
While Asst. Prof. Malee Boonsiripun, former dean of the Faculty of Journalism and Mass Communication, Thammasart University has echoed the above sentiments about digital literacy for children, saying young populations should be prepared for the digital transformation as well as threats.
"We must prepare children since their school days, equipped them with digital intelligence and guide them to be a media literate. Curriculum should be designed appropriately for their ages, culture, opportunities and trust. I watched Social Media Dilemma on Netflix. It was wonderful. The documentary shows us that we tend to use more social networks because of algorithms and AI. When we search something on the internet, we use the same keywords which later lead to the one-sided information. This is dangerous because it can divide the society, devalue our thinking and change our behavior unconsciously. We have to talk about this at schools and make the kids realize what dangers that await. The ability to analyze and think critically should exist at schools, so they are aware of what they are absorbing, and which one is real. Memorizing texts doesn't work anymore. Teachers around the word now act as coaches. Teachers must listen to students and guide them the ways," said Asst. Prof. Malee.
"I look forward to tangible recommendations to design the curriculum such as courses on media technology and media literacy. While the media must verify information before reporting. Although news is now being shared online, but people rely more on mainstream media than on social media. Roles of journalists are still important in raising awareness of the dark side of technology," she suggested.
Another speaker, Ms. Saijai Liangpunsakul, director of Phandeeyar put more emphasis on self-communication during the digital era.
"Today, digital dependency is now threatening ourselves. People rely on technology too much and have lost ability to communicate with each other. People do not have enough time for self-care. Alone time is necessary, and it has the potential to trigger our creativity for innovation. We've started losing human connection, but it is the misuse of technology that threatens our society. Mobile technology, for example, is developed to help us contact our loved ones, but today we use it to break up with our partners.
"Let's become a technology minimalist. For example, do not play with your phone while eating, look at someone in front of you, not your phone screen or focus more on work and stop being distracted by Facebook. If we're intelligent digital citizens, we should know how to use technology wisely," said Ms. Saijai.
The panel discussion shows the audience ways to become smarter digital citizens. Curriculum at schools should be designed in such a way that children can deal with accelerated digital changes. Younger generations and kids from kindergarten level onward should be more aware of a digital future, so they do not fall into the technology trap or fall victim to cybercriminals who are so hard to be caught. At the same time, let them be prepared for the next pandemic.