5 Cases of Political Disinformation during the 2023 General Election Campaign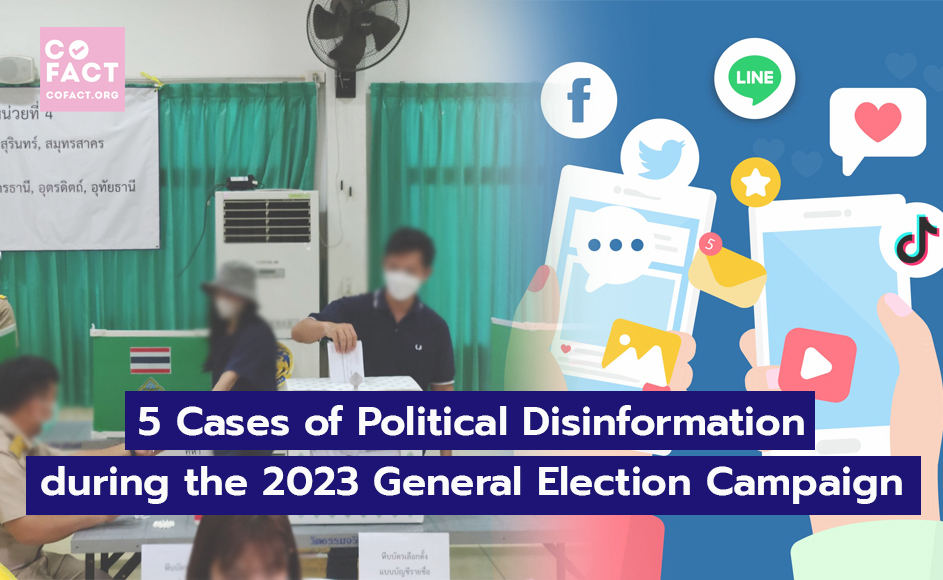 COFACT discovers widespread use of Islamophobia, false claims, accusations, conspiracy theories and false connections, and false or misleading information about opponents' policies are the common political tactics during the 2023 general election campaigns.
Political disinformation refers to false or misleading information deliberately created to cause misunderstanding for political gain. In fact, political disinformation has been used as a tool to defeat political opponents or influence voters' decision-making in many countries, such as the United States and the Philippines. This undermines the democratic process as people's decisions are based on false, distorted, and misstating information.
COFACT's monitoring of political disinformation in the past two months, starting from when the Election Commission set May 14 as the date for the general election, found at least five common types of false and misleading information.
1. Stirring up "Islamophobia"
False and distorted information is being used to stoke fear and hatred towards Islam (Islamophobia). This tactic is reportedly utilised to launch political attacks, creating a false narrative that politicians or political parties prioritise Islam over Buddhism or accusing them of being a ' national assimilation movement' that aims to destroy Buddhism and transform Thailand into an "Islamic state."
For example, false information had been circulating on social media and chat applications for at least seven years that Prime Minister Prayut Chan-o-cha, and his wife are Muslims. This false information
COFACT has found that the false information regarding the former Prime Minister's religion is part of a larger pattern of disinformation that aims to create fear and hatred towards Islam– often disseminated by Facebook accounts and YouTube channels linked to the Association for the Protection of Buddhism for National Security (APBNS) and the Thai Buddhist Association (TPBA). These organisations are known for opposing policies and laws that they perceive as supporting and expanding the influence of Islam, such as the Administration of Islamic Organisations Act, Hajj Affairs Promotion Act or promoting the Halal food industry.
In early April 2023, a video clip regarding the 76th-anniversary celebration of the founding of the Democrat Party (DP) was widely shared. According to the video, the DP allegedly held an Islamic religious ceremony without a Buddhist tradition, which raised the question of whether Buddhists would still vote for the party in the upcoming election. However, the party spokesperson later refuted the claims, clarifying that the event included both Buddhist and Islamic ceremonies.
Read more : ข้อมูลเท็จเรื่อง พล.อ.ประยุทธ์และภรรยานับถืออิสลาม ยอดภูเขาน้ำแข็งของ "อิสลามโมโฟเบีย"
2. False claims
The selective and partial presentation of facts about state projects or policies to mislead the public to believe certain state projects and policies were initiated or achieved during their tenure is a common tactic employed by politicians across the political spectrum to sway voters during elections.
COFACT found examples of such claims during the election period, such as the construction of the Bang Yai-Kanchanaburi Motorway, the Bang Pa-In-Nakhon Ratchasima Motorway, and the Benjakitti Park construction project.
Both the Pheu Thai Party and former Prime Minister Prayut Chan-o-cha have taken credit for the construction of the Bang Yai-Kanchanaburi and Bang Pa-in-Nakhon Ratchasima motorways, claiming them as their achievements. However, using online government-related sources, the COFACT team found that both projects were part of a government plan for developing the expressway network approved by former Prime Minister Chuan Leekpai in 1997. The construction of these highways, thus, has been a continuous effort for over two decades under the purview of various governments, making it incorrect to attribute them solely to any single political party or government and creating a false understanding among the public.
Similar to former Prime Minister Prayut Chan-o-cha's recent claim on a stage at a United Thai Nation Party (UTN) rally that he was responsible for initiating the construction of Benjakitti Park and overseeing its completion, a fact-check conducted by COFACT revealed that the project was actually approved for construction in 1991 during Anand Panyarachun's tenure as Prime Minister.
Moreover, the park had been developed consistently under various administrations, while Prayut's government played a part in the creation of the "Forest Park" section, which was executed in three phases from 2016 to 2021.
Read more :
มอเตอร์เวย์บางปะอิน-โคราช, บางใหญ่-กาญจนบุรี ผลงานรัฐบาลไหน?
เลือกตั้ง 2566: ตรวจสอบ 3 ประโยคของประยุทธ์บนเวทีปราศรัยรวมไทยสร้างชาติ
3. False Accusations
One concrete evidence of spreading misleading information to accuse political opponents of a particular problem is exemplified by the UTN's leading figures, who alleged that the Yingluck Shinawatra government was to blame for the current surge of electricity prices, pointing to the government's hasty approval of the Electricity Generating Authority of Thailand's procurement of 5,000 megawatts of electricity from Gulf Energy Development, a major private power producer, back in 2012.
According to COFACT's fact-checking, the power purchase agreement for 5,000 megawatts of electricity with Gulf Energy Development was signed during the Yingluck Shinawatra administration. However, it may only partially be accurate to attribute the currently high electricity prices solely to this agreement, as other factors, such as fuel prices and electricity usage during different times of the day, also play a significant role. This case highlights the tendency of political parties to use partially accurate information to attack their opponents during election campaigns instead of focusing on their own policy formulation and proposals.
Read more : ค่าไฟแพงเพราะอะไร คำตอบไหนเชื่อถือได้?
4. Conspiracy Theories and False Connections
In the past few years, there has been widespread dissemination alleging that the United States had been interfering in Thai politics through the civil society organisations that receive funding from the US government. This belief has been propagated again in connection with the upcoming Thai general election on 14 May 2023.
COFACT has found that these accusations originate from the analysis of Brian Berletic, an American independent geopolitical analyst based in Thailand. According to Berletic, the US government has been meddling in Thai politics in order to remove governments that obstruct US interests and replace them with ones that are more "compliant." Berletic claimed that this interference is carried out through funding civil society organisations that promote human rights and democracy, such as the Internet Law Reform Dialogue (iLaw), the Thai Lawyers for Human Rights, and the Union for Civil Liberty. He specifically singles out the National Endowment for Democracy (NED) as a "Civic version of the CIA" using human rights and democracy as a cover for covert operations of the US government to interfere in the internal affairs of other countries.
Berletic also claimed the partnership between the Election Commission of Thailand (ECT) and iLaw in election monitoring would allow US-affiliated organisations to intervene in Thailand's elections.
His analysis was then spread through social media platforms by pro-Prayuth news outlets and organisations, such as Top News and the Thai Move Institute, as well as political figures like Mr Somchai Swangkarn.
While individuals are entitled to express their political views and analysis, the allegation that the United States is interfering in Thailand's elections through NGOs like iLaw is unsubstantiated and based on conspiracy theories. It is essential to distinguish between opinions and facts before accepting or sharing information.
Read more : กกต.-ไอลอว์ ร่วมจับตาเลือกตั้ง 2566 กับการกลับมาของข้อกล่าวหา "อเมริกาแทรกแซงการเมืองไทย"
5. Creating false or misleading information
Spreading false or misleading information is commonplace in politics, with information being created to tarnish the reputation and credibility of opponents during elections and the policies of political parties being twisted to undermine their popularity.
For example, there has been an allegation that the Move Forward Party (MFP) plans to launch a policy to cut retirement benefits for civil servants and that their policy to abolish mandatory military service would leave Thailand defenceless.
In mid-April 2023, false news spread regarding Cambodia's military drills near the Thai border and a clip of Prime Minister Hun Sen's speech warning of war with neighbouring countries if his government was not in power. COFACT has confirmed that the clips of the military drills and the Prime Minister's speech were old but repurposed and shared as new. Meanwhile, the embassy of Cambodia in Bangkok confirmed that no military exercises were conducted along the border. The content circulating on social media regarding the military drills is thus false.
It is possible that people behind the fabrication and disinformation of the fake news regarding Cambodia's military exercises, as well as the alteration of Cambodian Prime Minister Hun Sen's statements, may have intended to mislead the public and create a false perception towards MFP's policy to reform the military and abolish mandatory military service. This could also be a response to the party leader's question, "Why do we still have a military?
The dissemination of this false information is an explicit example of how politically-driven motives can exploit sensitive issues concerning national security and international relations without considering the broader and far-reaching consequences beyond the results of an election.
Read more: คลิป "กัมพูชาซ้อมรบ" และ "ฮุน เซนขู่สงครามปะทุ" มาจากไหน เกี่ยวกับการเลือกตั้งของไทยอย่างไร
COFACT predicts that using distorted information and disseminating political disinformation will continue even after the general election on May 14, 2023, with more diverse and widespread content. While blocking and controlling the source of false information is challenging, the public can keep up with the news by distinguishing between opinions and facts and assessing the accuracy and credibility of the information before believing or sharing it, regardless of its source, from either government or non-governmental organisations.
ABOUT COFACT THAILAND
Cofact project or COFACT (Collaborative Fact Checking) was inspired by the efforts of the civil society network in Taiwan, who believe in people's power in dealing with the dark side of information by creating an open platform that anyone from any sector can help in fact-finding, preventing any side to hold the absolute truth alone. It is because facts could change over time and other relevant factors.
In mid-2019, the civil society in Thailand held the "International Conference on Fake News" led by the association of eight organisations such as the Thai Media Fund, the Thai Health Promotion Foundation, Friedrich Naumann Foundation for Freedom (FNF), the Thai Public Broadcasting Service, the National Press Council of Thailand, SONP, the Faculty of Communication Arts of Chulalongkorn University, and the Faculty of Journalism and Mass Communication of Thammasat University.
At this conference, all eight organisations signed the declaration to join forces in fighting disinformation. This event was attended by Taiwan's Digital Minister Audrey Tang, the Digital Minister of Taiwan, who was a keynote speaker and shared her experience in prototyping Cofact of Taiwan. This led to the cooperation and consequently led to Thailand's Cofact project.
Follow COFACT on:
Website: https://blog.cofact.org/
Facebook: https://www.facebook.com/CofactThailand
Twitter: @CofactThailand
TikTok:  @cofactthailand
---