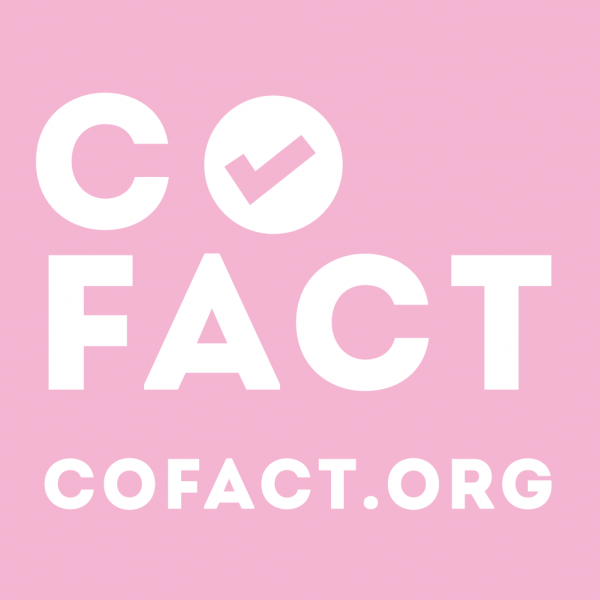 Hybrid conference to celebrate International Fact-Checking Day 2021 in Thailand: Challenges towards Collaborative Action on Fact-Checking.
2nd April 2021 at 9.00 AM. – 5.00 PM.
Live on Fb: @ThaiPBSFAN @CofactThailand
MORNING SESSION
9.00 – 9.30 AM.Opening Ceremony
Opening remarks by Pairoj Saonuam, MD PhD, Assistant Chief Executive Officer, Thai Health Promotion Foundation (ThaiHealth)Associate Professor Dr. Preeda Akarachantachote, Dean of Faculty of Communications Arts, Chulalongkorn University,Jeerapong Prasertpolkrung, Secretary-General, Thai Journalists Association (TJA),Frederic Spohr, Head of FNF Thailand & Myanmar, Friedrich Naumann Foundation for Freedom (FNF)
9.30 – 10.30 AM.Keynote + Q&A
Keynote speeches: Fact-Checking Challenges across the globe in time of crisis. Baybars Orsek, Director of International Fact-Checking Network (IFCN)
10.30 – 11.30 AM.Panel 1
Fact-Checking Recap in Thailand: Prospects and Pain Points bySupinya Klangnarong, Co-Founder, COFACT Thailand,Peerapon Anutarasoat, Head of Sure and Share Center, Thai News Agency, MCOT,Nattakorn Ploddee, Fact-Check Editor, AFP Thailand,Rawee Tawantharong, President of Online News Providers Association (SONP),Santiphap Phoemmongkhonsap, Deputy Director of Anti-Fake News CenterModerated by Saijai Liangpansakul, Phandeeyar
11.30 AM. Press Conference
Press Conference on Collaborative Action on Fact-Checking Year in Thailand:April 2, 2021 – April 2, 2022
Lunch
AFTERNOON SESSION
1.00–1.15 PM.
1.15 – 2.30PM. Panel 2
Afternoon-session Opening remark by Associate Professor Dr. Nitida Saengsingkeaw, Deputy dean for academic affairs, Faculty of Journalism and Communication, Thammasart UniversityAcademic Overview on Mis/Disinformation in Thailand by Dr. Isara Anantavarasilp, Faculty of Engineering, King Mongkut's Institute of Technology Ladkrabang (KMITL) & advisor to Wisesights' research project. Dr. Jirawate Rugchat, Faculty of Mass Communication, Chiang Mai University, Assistant Professor Phirakan Kai-Nunna, Faculty of Communication Sciences, Prince of Songkla University & advisor to Deep South COFACT. Moderated by Dr.Jessada Salathong, Faculty of Communication Arts, Chulalongkorn University
2.30 – 3.30 PM.Panel 3
Lessons-learned from COFACT Communities:Maruf Chebueraheng Director of Digital4Peace & Deep South COFACTKamol Homklin, Coordinator, Esan COFACTAssistant Professor Dr.Napat Raungnapakul, Consumers Network in Northern Thailand Associate Professor Nuntiya Doungphummes, Research Institute for Languages and Cultures of Asia, Mahidol UniversityModerated by Dr.Uajit Virojtrirat, Advisor to COFACT Thailand & Media Alert
3.30 – 4.30 PM.Panel 4
Global Insights from Social Media Platforms. (TBC)Facebook, Google, Youtube Twitter
4.30PM.–.5.00PM. Closing remarks 'From Truth seeking to Peace building' by Ven Napan Santibhaddo, Chairperson of the Board, Institute of Buddhist Management for Happiness and Peace Foundation (IBHAP Foundation) Theerada Suphaphong, Thailand representative, Centre for Humanitarian Dialogue (HD)
Online campaign – 'Everyone is a fact-checker.'
9.00 PM. – 11 PM. Reflection
Reflection on Clubhouse 'From April Fool's to Fact-Checking Day.'' Hosted by Sure and Share Center, Thai News Agency, MCOT.