Excellent Idea to Solve FAKE News problems by Youth, Innovation Created with Proposals Driving the Policy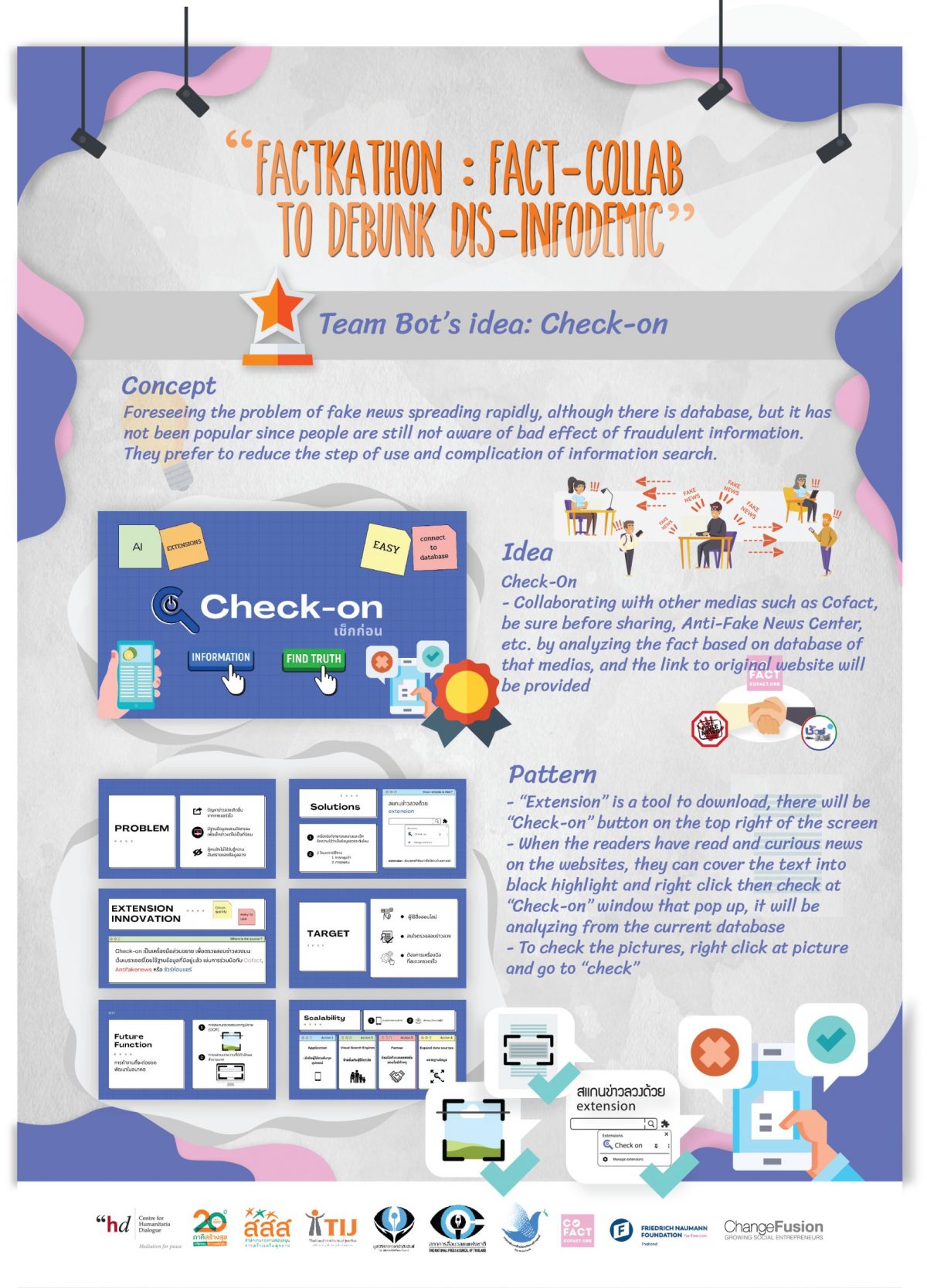 Beside the competition of new generation at the university level to create innovations to solve the problems of fake news, which is all through widespread over online society, also the recommendations were mobilized in term of policy also presenting to the relevant state agencies. More importantly, there were seeking of Common Truth that all relevant parties were acceptable. This will be leading to peaceful coexistence in a society of different people.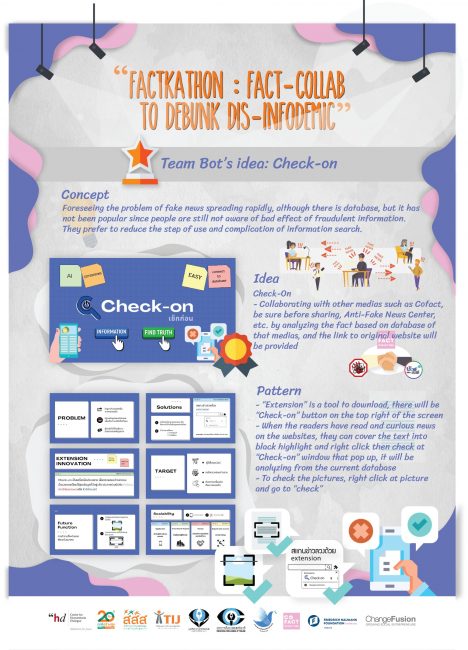 From this competition, the 1st prize winner is "Team Bot", the team members are students from Thammasat University, and Bangkok University. They present the idea called "Check-on" or "Check-korn" by developing the extension tool. The tool is when the internet users receive content/ picture from website and curious what the fact is, then they can cover text into black highlight, and click at right, then the window of "Check-on" will be pop-up then it will be auto analyzing based on the current database such as Cofact, sure before sharing, Anti-Fake News Center, etc.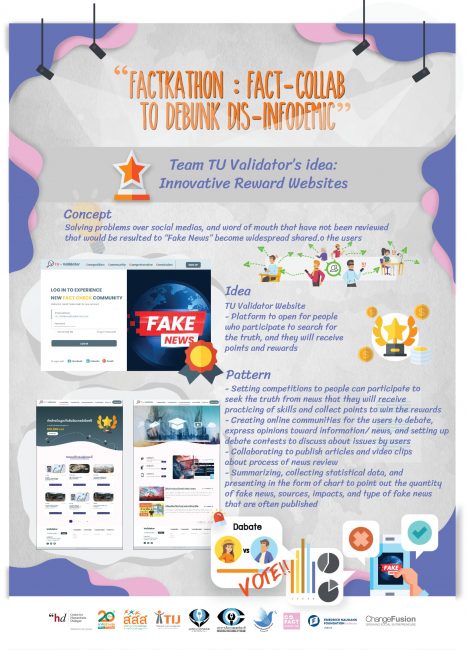 The 2nd prize team is "Team Validator", the team members are from different faculties of Thammasat University. They present a platform to explore the truth from people who would like to share. Here is providing points and rewards for those people to create online communication for users can debate, share information and opinions. With this, the truth will be clearly occurred.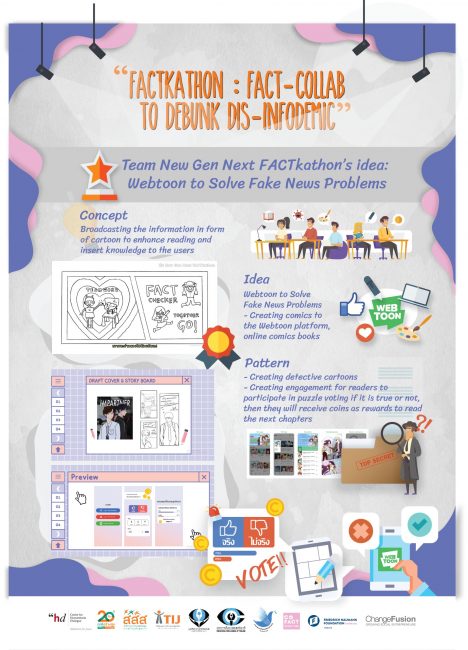 The 3rd prize team is "Team New Gen Next FACTkathon", this team present designing the news broadcast in term of cartoon which is popular nowadays. They created cartoon on the online comic book platform (Webtoon) to enhance reading skill together inserting knowledge about fake news detection with gimmicks by allowing the readers to participate in puzzles solving. Once they voted if the news is true or not true, they will receive a coin to read the next chapter.
Apart from innovation presenting, a meeting was held on to analyze the problems and present the proposal for sustainable solutions of fake news. The relevant parties are agreed to push the policy that solves the fake news problems which are wide spreading over online society as follows.
Asking for responsibility from producer and fake news spreaders/ senders: recommend protections and correct message from producers and fake news spreaders/ senders that could reduce the causes that damages others.
Paying attention on skill – Media Literacy: Media Literacy is not new for digital era, whereas this has been discussed ever since the era of analogue press has been existed (radio, television, and print media). For example, use of the strategies or techniques to convey messages to the individual or group of recipients who received the role of the media that resulted to the social values ​​or cultures. Turning to digital era, productions and transmission of information is becoming more wider and faster, thus media literacy is even more important to avoid being victims of fake news or misinformation.
Nevertheless, understanding of online platforms such as Facebook, Twitter, Intragram, Line, etc., how work they were designed. Also understanding to how communicate through these platforms the content creators were using to reach the target which is more complex than the press in the past. For example, some platforms can use the method to transfer the message (text, images, video clips, audio clips) visible widely and in continuous frequencies, even though to have statistics of many forwarding. Those who are ignorant of these methods, may have believed the fake news are true without investigation.
Reducing inequality of access to digital technology: although youth/ new generation were born and growing up with digital native, they are familiar to use the digital technology more fluently than old generation, middle-ages, and retired who may be too new for digital technology. However, there is a gap remaining, that is, some youth/ children who are in poor family that have no fund to provide digital devices such as computer, smart phone, and/ or being inaccessible to digital infrastructure such as stable high-speed internet. Therefore, these causes are the limitation of learning and practicing digital media literacy skills for the youth from poor family comparing to the youth from affordable family.
Supporting the role of organizations to oppose fake news and transit the information to people with ease: there are parties including the government sector that set up the anti-fake news center, Ministry of Digital Economy and Society (DES), Press sector that set up "Sure before Sharing" center by MCOT, and Academic-People sector, associating as C effort to oppose fake news
At present, there are many efforts to combat the problem of fake news. both the government sector that has an anti-fake news center Ministry of Digital Economy and Society (DES), the media sector with a Sure Before Sharing Center of MCOT and the academic department – the people. gathered in the name of Cofact.org. Beyond supporting these parties to investigate accurately and quickly, digital tool development also is necessary as when internet usages may found some suspended news or information then they could send to the Cofact.org system to process data if there were through the process already (many fake news were spreading as "shared loop" feature, some of which have been proven over the years to be untrue, but are still being passed around again).
Expanding parties in local level to join the ideology to examine the fake news: In fact, fast communication reflecting to a lot of information transiting, could caused to fake news or misinformation become variety and some of them may not be in intention of related organization to investigate. Therefore, it is necessary to set up a center at the community level which maybe local media or community leaders (Kumnans, village headmen, village elders, etc.) by allowing those who are interested in fraudulent issues to practice their skill. Also, discussion to exchanging ideas and suggestions on how to promote this at their own communities because each local area has a different social context.
Starting a culture of "asking questions" and "accepting changes": absorbing into mindset of people to not immediately believe when first received news or information, but suspense then this will lead to an investigation of the fact. Also, they would understand that the information can be changed following the facts which were rose up. Even though to change mindset following the facts is not concerned as wrong or shameful, it is not easy because since the past, Thai people in Thai society are used to be accustomed to following beliefs, whether they believe in maturity (senior, older) or qualifications (higher education, higher position). Hence, starting to absorb this culture at education system is a must where students can question about textbook or what teachers have taught. However, this is a challenge point to adjust the way of schools, and teacher training in the university where establishes the education courses.
Accepting community for "the dissenters" talks to build the same direction of understanding and middle way: since there are dimensions toward an issue, most people always get into some part of information that matches with their bias, or their personal belief, and not received the different datasets. By this, there is caused divisions and conflicts in long term, so how to set up a community for dissenters to discuss without pressure of statuses which maybe different level (age, power) is a question.
Even though people may not be agreed on everything, but opportunities from "open up to one another" will lead to seek and discover aspects that all people from different sides can accept. Nevertheless, this recommendation is hard as the same reason of starting culture "asking questions" because Thai people have accustomed to adhering to the level of seniority or qualification. Also, there is lack of skill of communication to people who agree differently in term of opinion, physical and social status. Therefore, this is a challenge for all people to apply these kinds of skills.