9 Skills for digital citizens during the New Normal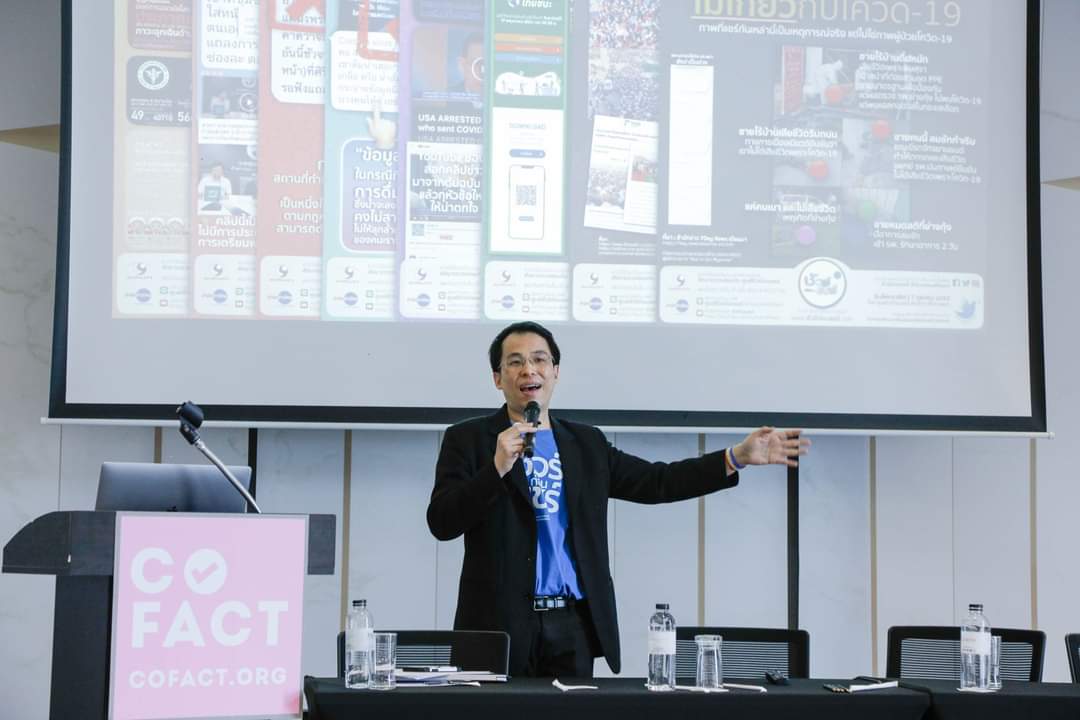 9 Skills for digital citizens during the New Normal
By COFACT Thailand
Without realizing it, the new normal speeds up digital transformation. A lockdown forces people to search information on the internet. A phenomenon called "Share Kon Sure", or sharing before fact checked, has stirred up nationwide panic about information. Some people go to the hospitals unnecessarily or become so afraid to touch any objects. Questions remain about how people can live happily in the new normal and digital era.
Speaking at the 14th Year-end Digital Thinkers Forum that was co-organized by COFACT, Thai Health Promotion Foundation, Thailand Institute of Justice and Friedrich Naumann Foundation on 26 November 2020, Peerapon Anutarasoat, manager of the Thai News Agency's (MCOT) Sure Kon Share Center (Sure and Share) presented a paper titled "Digital citizens and ways to deal with Infodemic", the term that refers to a wave of fake news and misinformation about the pandemic on social media.
Mr. Peerapon has highlighted nine skills necessary for digital citizenship which are shown below:
9 skills of digital citizenship
A digital citizen not only refers to a person having access to internet, but also a set of the right digital skills. The eight competencies are found as follows:
Maintaining one's identity
Protecting personal information
Analyzing data sources with good judgement
Managing time spent looking at a screen
Dealing with cyber threats
Managing database online
Securing personal data on the internet
Using technology ethically
However, according to research on problems with digital citizenship during the coronavirus pandemic, Mr. Peerapon said one more skill needs to be added to the list which is an ability to differentiate between real life and online world.
"I think we sometimes adopt the online habits – 'undo' or 'reset' – in real life. But in reality, we can't turn back time and undo whatever we did. We will fall victim to online scams if we trust people online in the same way we trust people in the real world," he explained.
Final examinations of digital citizenship
Mr. Peerapon designed an assessment for digital citizenship during the COVID-19 pandemic. Five subjects have been created and served as final examinations to help digital citizens identify underlying problems.
"The first subject is preparing for pandemics. I give an 'F' grading for the world's population who failed to be well prepared for the deadly disease. Bill Gates warned of it in 2015 when an Ebola pandemic broke out saying, 'we used to be afraid of nuclear bombs wiping out the world, but today we're so scared of virus instead'. When the first case of the coronavirus disease was detected, we still lacked preparation. We learn how to access the internet and protect ourselves against hackers but haven't taught people how to deal with pandemics and infodemic," he said.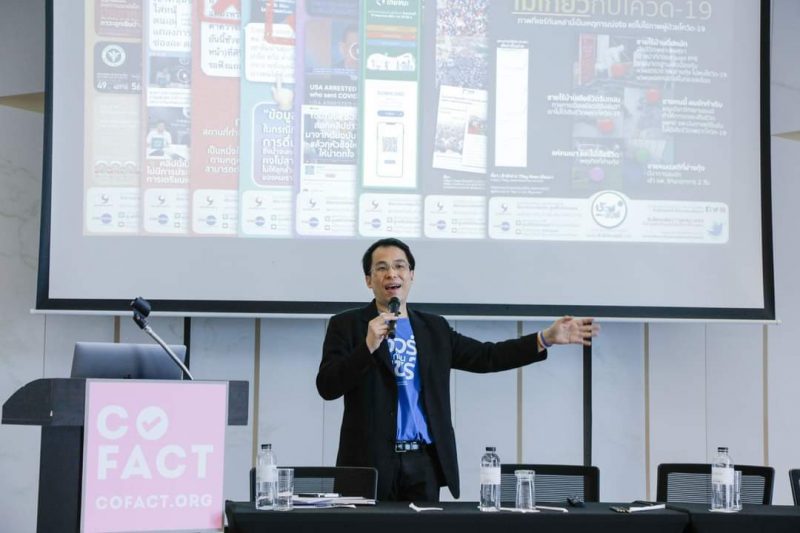 "The second subject is dealing with unexpected events. I also give an 'F' grading for both Thai and overseas citizens. For example, a Chinese doctor who issued the first warning about the deadly coronavirus outbreak, but state authorities tried to cover up the disease, causing the situation uncontrollable during the first phase. Likewise, in Thailand, right after the pandemic broke out, waves of false news spreading on social media. Misunderstandings arose when an image of a drunk man lying on the pavement was widely shared online with a message saying he died of COVID-19. We were not ready to cope with the pandemic and with unforeseen events, the Covid situation has taken a serious turn for the worse. Widespread misinformation is on the rise and it makes an already-bad situation even worse."
"The third subject is to teach students to deal with misinformation. I give a 'D-' grading. The new pandemic is a very deadly virus and the only source of information for everyone is the internet. Thus, the users easily fall into victim to false news. Misleading information is disseminated by nearly every sector of the society, including state agencies, significant figures, experts, media/influencers, and product sellers. It's spreading around the world and swindling people."
"The fourth subject is adjustment and adaptability in the time of COVID-19 which gets 'B' grade because people adjust and adapt to cope with the changes well. For example, a Tu Pan Sook or 'Pantries of Happiness'. Both in reality and digital world, several official online channels have been introduced free of charge to people, so they can stay at home happier."
"In the fifth and last subject which is to live with the unpredictable coronavirus, people receive 'D-' grade. I think people aren't doing good enough, for example, fewer and fewer people are scanning a Thai Chana QR code."
Prior to the end of panel discussion, Assistant Professor Dr. Uajit Virojtrairatt, General Secretariat, Media Monitor, and advisor to COFACT opined that concrete actions must be taken to deal with the blurred line between reality and the digital world.
"In my opinion, the third subject which is about how to deal with false news. There should be tangible manners for the public, so they've a better understanding of the preparedness. In regard to nine skills of digital citizenship, questions remain about how people can distinguish between the digital world and reality. If clearer instruction [on this matter] can be provided in the future, for instance, bringing more human values in the digital age. Studies suggest that it would be beneficial if people successfully overcome the blurring line [between the digital world and reality]," Dr. Uajit said.
While Adisak Limparungpatanakij, president of Nation Broadcasting Corporation (NBC) has expressed his views on "getting ripped apart online".
"I see getting ripped apart online as a pandemic because when one person starts, others will follow suit without verifying the fact. I was bombarded online once, although I didn't do a lot of things that have been publicly said. But misleading information continued to be widely shared. If people aren't immune to fake news, they will believe it. I urge people to learn more of infodemic – what characteristics of infodemic are, what kind of society infodemic can bring, or which social media platform shares the most fake news. For instance, what can be done to reduce fake news on LINE, a chat application that uses letter sealing? How can we deal with people who already believe in fake news and what would happen if this problem gets ignored? In some countries, the social media addiction treatment is available, and I think this is an interesting case," Mr. Adisak said.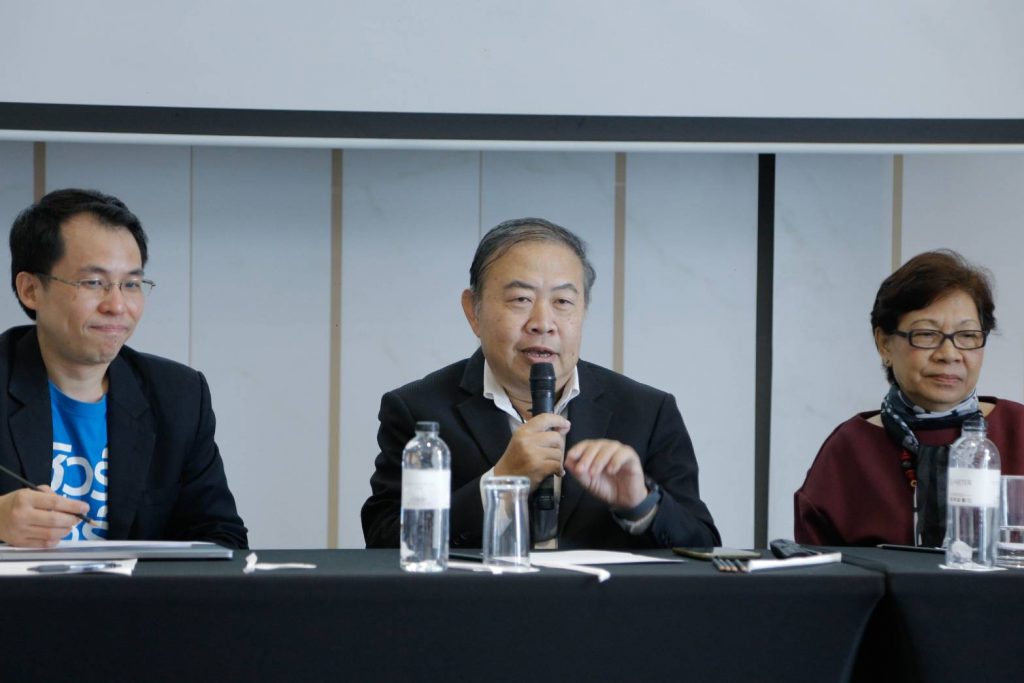 The panel discussion shed light on challenges faced by digital citizens and ways to equip digital citizens with nine necessary skills. In reality, it's hard to differentiate digital citizenship in the real world. Thus, Thai society needs to develop citizens of both worlds to be healthier, so no one falls victim to the next pandemic which can affect us physically and emotionally.